OYSTERS
THE SELFLESS SHELLFISH
EASTERN OYSTER
Crassostrea virginica
Oysters are considered a keystone species in the Indian River Lagoon, meaning they hold a vital role in keeping the ecosystem balanced. If a keystone species is removed, it negatively affects many other species. So, although they are small in size, oysters are very important to the Lagoon ecosystem for several reasons…
ONE ADULT OYSTER CAN CLEAN
50 GALLONS OF WATER PER DAY
Oysters use their gills to pull in water from the lagoon filled with suspended particles, such as algae and muck. Oysters use those particles to provide themselves with nutrients and minerals, and after an oyster has consumed all of the viable nutrients it requires, it will spit it back out as cleaner and clearer water.
Oysters filter feed around the clock at a rate of nearly 50 gallons of water per day. That's more than 1,500 times their body volume. With this tremendous filtering ability, established oyster reefs are essential for improved water quality, which will result in a healthier Indian River Lagoon.
FOOD
SOURCE
A wide variety of species in the Indian River Lagoon feed directly on the oysters as well as on the algae, crustaceans and phytoplankton living on and around the oyster reefs.
DIVERSE
HABITAT
Fondly referred to as the "living razor blade," the oyster reef's angled shells and tight crevices provide plenty of hiding places for small critters and juvenile fish.
EROSION
PREVENTION
As damaging waves travel toward the coast, they first hit oyster reefs, which act as a natural barrier dissipating the wave energy and diminishing the amount of sediment removed from the shore.
OYSTERS ARE IN DANGER
Over the years, we have seen a tremendous decline in Brevard County's ecologically important oyster population for several reasons…
OVERHARVESTING
OYSTERS
Oysters are a delicious meal for both animals and humans alike, but when they are continuously harvested at a rate faster than they can reproduce, the natural population can't keep up and their numbers begin to decline.
COASTAL
CONSTRUCTION
Oysters are an intertidal species, they live in areas along the shoreline that experience a natural fluctuation of tides. These areas are popular locations for homes, businesses and marinas, so as coastal development increases, the available habitat for an oyster reef diminishes.
REDUCED
WATER QUALITY
Oysters aren't able to filter out the overwhelming amount of pollution being introduced into the Lagoon. Unfortunately, solid waste and complex chemical compounds such as fertilizers and pesticides inhibit their filter feeding abilities and can lead to their death.
DERMO AND
MSX DISEASE
Don't move untested oysters between sites! Just like we get colds and flus, oysters suffer from two diseases that are specific to them: Dermo and MSX. Some diseases cannot be cured and these particular diseases spread in warm waters causing the oyster population to decline. Examination shows pale digestive glands, mantle recession and emaciation. (Image Credit: Roger Williams University)
OCEAN
ACIDIFICATION
The burning of fossil fuels is absorbed by the ocean, where it reacts with seawater to increase ocean acidity and reduces the availability of calcium carbonate, which oysters need to build their shells. This affects oysters like an "osteoporosis of the sea" leaving their shells thinner and more brittle and resulting in developmental delays and deformities.
BOAT
WAKES
Large waves produced by a moving vessel on the Lagoon can dislodge oysters. Once the oysters are off the reef, they can't just walk right back on to it and live happily ever after. Dislodged oysters will roll in the waves, ultimately forming piles in the shallow water, where they will dry out and die. The resulting large piles of oyster shells are referred to as dead margins.
OYSTER GARDENING STARTED IN 2014
Brevard Zoo, in partnership with the Brevard County Natural Resources Management Department, launched this program to encourage our community to get involved with restoring local oyster populations to the Lagoon. The Oyster Gardening project has expanded reef restoration into the more challenging Brevard County portion of the IRL.
OYSTERS GARDENING PROCESS
OYSTER GARDENING
WORKSHOPS
Local residents living along the IRL are trained to become Oyster Gardeners.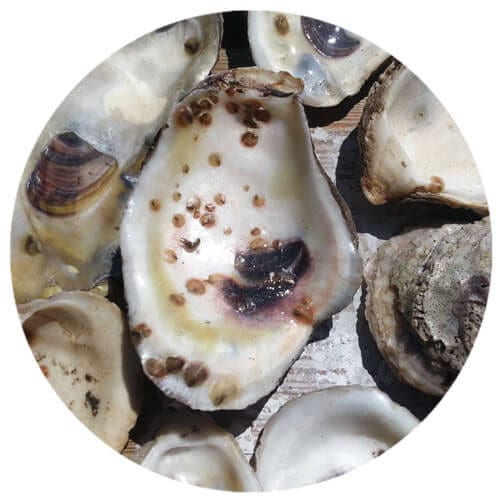 THE NEXT
GENERATION
Gardeners receive bags of oyster shell halves covered in oyster larvae. Oyster larvae is also called spat.
VOLUNTEERS
MAKE IT HAPPEN
Gardeners care for oysters off of their docks for over six months.
DATA POINTS TO
THE BEST HOMES
Data collected by the Gardeners and their Buddies points to the best locations for building new oyster reefs.
PROVIDING A STURDY
FOUNDATION
Oysters are collected back from gardeners and are used to build restoration reefs.
BUILDING
FOR SUCCESS
Through careful monitoring and care, the Oyster Gardener project has grown over 500,000 live oysters.
A DECADE OF OYSTER MATS
Brevard Zoo, in partnership with UCF, has been using special oyster restoration mats made of 36 oyster shells and aquaculture grade mesh to rebuild oyster reef habitat in Mosquito Lagoon, a region of the Indian River Lagoon located in Volusia County that is part of the Canaveral National Seashore. Community volunteers help by making and deploying mats that act as a nursery to free-swimming oyster larvae.
MAT MAKING
WORKSHOPS
After the oysters are cleaned and drilled, they are transported to mat making workshops throughout the county.
PREPARING THE
OYSTER BED
Onsite volunteers rake down and level layers of accumulated dead oysters known as dead margins.
VOLUNTEERS
MAKE IT HAPPEN
Next the oyster mats are anchored to the estuary floor in the footprint of damaged reefs.
PROVIDING A STURDY
FOUNDATION
The mats are laid out like a patchwork quilt and are connected and anchored using concrete doughnuts.
DISCOVERING
THEIR NEW HOME
The placement of oyster shells on the Lagoon floor attracts the free-floating larvae, which can detect the calcium carbonate in the shells of other oysters.
BUILDING
FOR SUCCESS
Through careful monitoring and care, the Oyster Mats project has used over 45,000 mats to build 78 restored reefs.
HELP US RESTORE OUR SHORES
We need you! The Oyster Mat project is almost exclusively based on the efforts of more than 50,000 volunteers from all across Florida who are responsible for virtually every aspect of the project, from drilling shells to cutting and assembling mats, transporting mats to restoration sites and installing mats on restoration reefs. Join us today.
HELP US RESTORE OUR SHORES
We need you! The Oyster Gardener project is almost exclusively based on the efforts of volunteers from along the Indian River Lagoon who are responsible for collecting data to help identify portions of the Lagoon with high rates of oyster survivability and recruitment; these were the areas that would be future candidates for reef restoration. Join us today.
BECOMING AN
OYSTER GARDENER
If you are Lagoon-front resident that lives in Brevard County, you are half way there to becoming an Oyster Gardener! The Lagoon is where the oysters will thrive so lakes, ponds and/or your relaxing pool do not qualify as suitable bodies of water. Additional considerations:
The gardeners play a key role in sustaining the success of the project and contributing to the overall vision of a living shoreline throughout the Indian River Lagoon (IRL). For up to 9 months they help grow juvenile oysters off their portion of the IRL. They conduct routine maintenance of the habitats.
NO DOCK?
BECOME AN OYSTER BUDDY
SPECIAL THANKS
Funding from the County has gone a long way since its inception; supporting the project's staffing, equipment/ supplies and the education of approximately thousands of community volunteers who after training become our "oyster gardeners". As a science-based program, we take a citizen scientist approach, equipping volunteers with the knowledge and the tools to further discovery and understanding of our natural world.